Ronnie McDowell 2020 Western Caribbean Cruise w/ Johnathan Len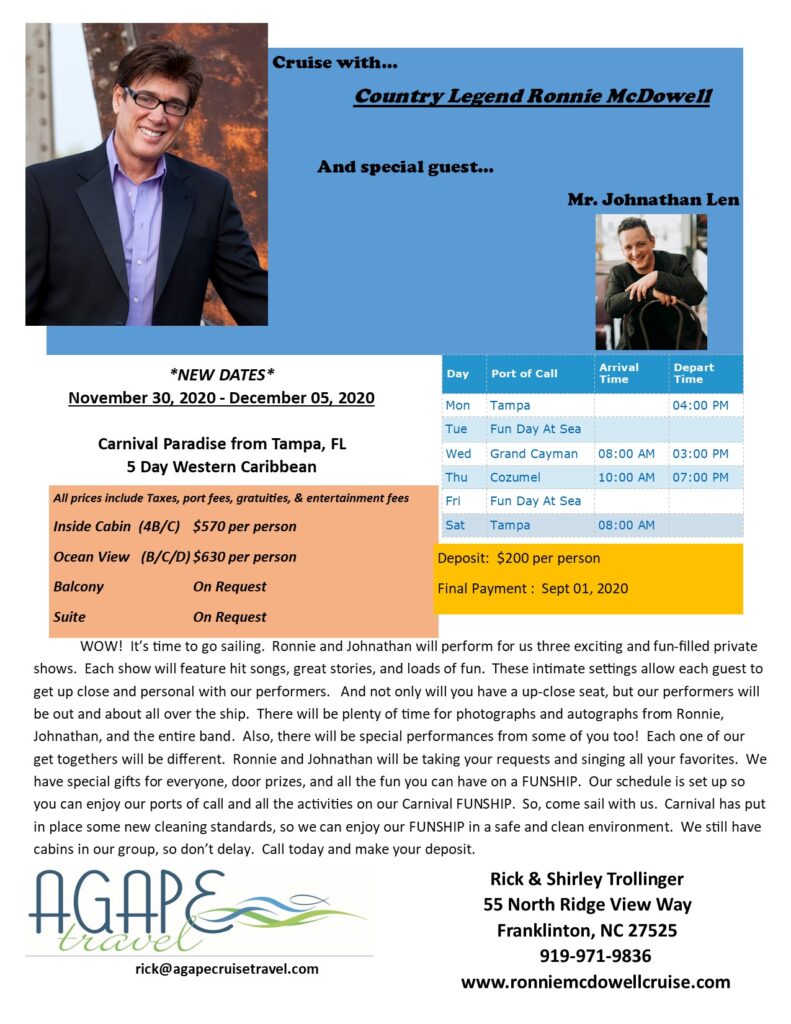 WOW! It's time to go sailing. Ronnie and Johnathan will perform for us three exciting and fun-filled private shows. Each show will feature hit songs, great stories, and loads of fun. These intimate settings allow each guest to get up close and personal with our performers. And not only will you have a up-close seat, but our performers will be out and about all over the ship. There will be plenty of time for photographs and autographs from Ronnie, Johnathan, and the entire band. Also, there will be special performances from some of you too! Each one of our get togethers will be different. Ronnie and Johnathan will be taking your requests and singing all your favorites. We have special gifts for everyone, door prizes, and all the fun you can have on a FUNSHIP. Our schedule is set up so you can enjoy our ports of call and all the activities on our Carnival FUNSHIP. So, come sail with us. Carnival has put in place some new cleaning standards, so we can enjoy our FUNSHIP in a safe and clean environment. We still have cabins in our group, so don't delay. Call today and make your deposit.
Inside Cabin: $570* Ocean View: $630* Balcony: Request Suite: Request *Princes include; All taxes, port fees, gratuities, and private concert fees and are based on double occupancy Deposit: $200 at Booking Final Payment: Sept. 01, 2020
Ronnie McDowell cruise to Hawaii with Special Guest, Michael Cullipher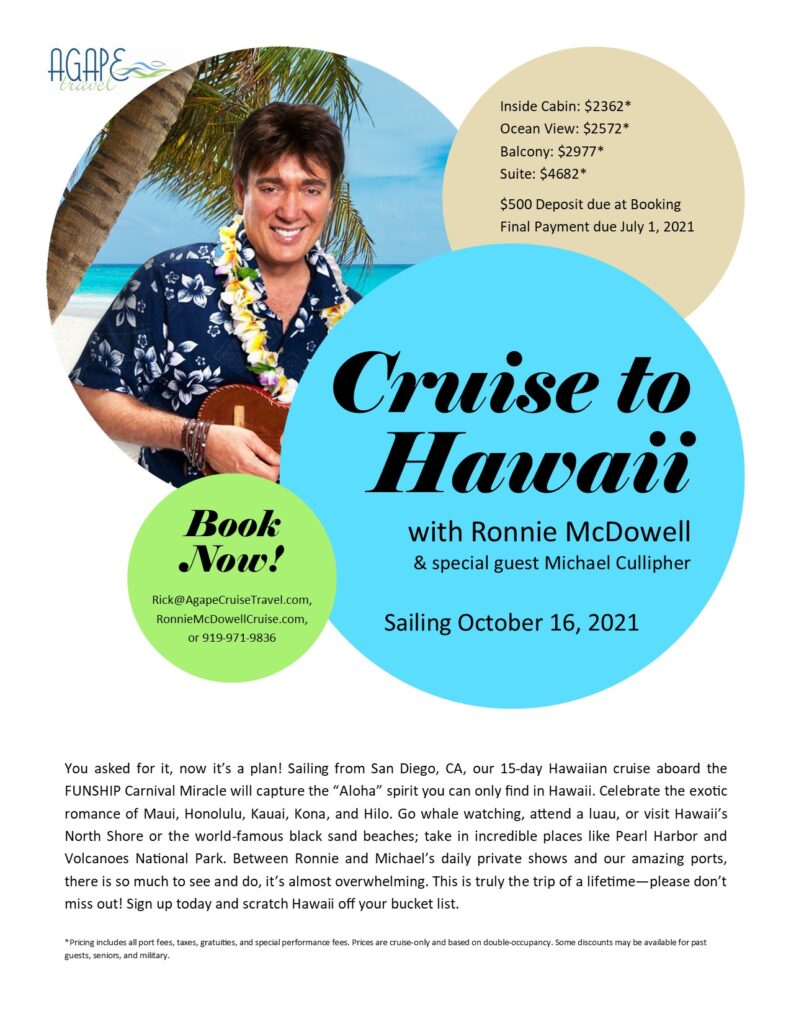 You asked for it, now it's a plan. Join Ronnie McDowell and special guest, award winning Elvis Tribute Artist, Michael Cullipher as we sail from San Diego, CA. On our 15 day Hawaiian cruise we will capture the "Aloha" spirit can only be found in Hawaii. We will celebrate the romance of the Islands as we visit 5 of the exotic islands on our FUNSHIP, the Carnival Miracle. We will have plenty of time to find. Your Aloha spirit as we visit the islands of; Maui, Honolulu, Kauai, Kona, & Hila. Each of these islands are different and the same. But they all capture the diversity and culture of America's 50th state. You will have the opportunity to visit great places like; Pearl Harbor, Volcanoes National Park, & Diamond Head. Ronnie and Michael will be performing private shows each day at sea and give us plenty of time to enjoy our ports. Take an excursion and go whale watching, attend a Luau, or visit Hawaii's North Shore or the world famous black sand beaches. There is so much to see and do, it's almost overwhelming. This is truly the trip of a lifetime, please don't miss out, this sailing will sale out. Sign up today and scratch Hawaii off your bucket list.
Inside Cabin: $2362* Ocean View: $2572* Balcony: $2977* Suite: $4682* *All prices include: Cruise, Port Fees, Private Concert Fees, & Gratuities. Cruise only, double occupancy Deposit: $500 per person (Some reduced deposits may be available) Final Payment: July 01, 2021
Rick's 60th Birthday Cruise from Port Canaveral 4/18/2021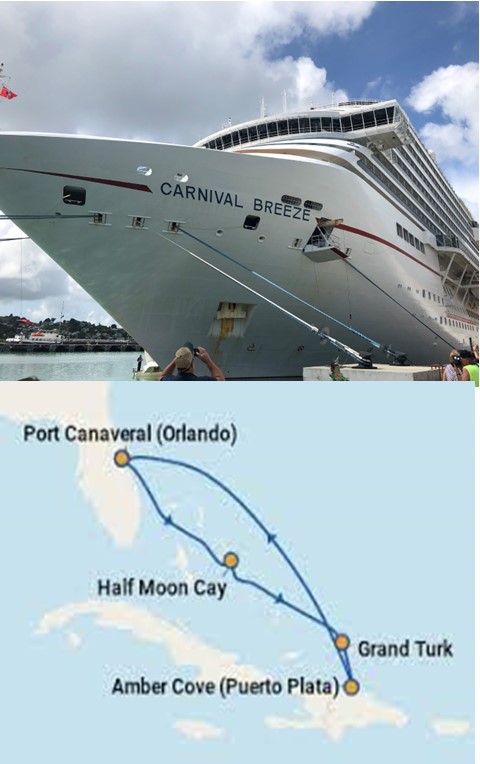 Come Join me and Shirley on this 6 day FUNSHIP cruise from Port Canaveral to help Rick celebrate his 60th Birthday. We will visit some great beaches in the Caribbean. Half Moon Cay, Grand Truk, and Amber Cove. Beautiful white sand beaches, turquoise crystal clear waters, colorful reefs, and schools of tropical fish. This is the best way to celebrate and have a great party. Not only great ports, but the Carnival Breeze is one of the highest rated ships among all ships currently sailing in the Caribbean. Come join the deck parties, line dancing, and FUNSHIP games! But, wait until you sample the food! At dinner each night, your taste buds will be having a party in your mouth. Yes, there is something for everyone. So, come join us as we celebrate Rick's birthday milestones. *Prices include all cruise fees, port fees, and gratuities. Based on double occupancy, cruise only.
Inside Cabin: $639* Ocean View: $741* Balcony: $876* Deposit: $50 per person Sept. 15, 2020 2nd Payment: $200 per person Nov. 15, 2020 Final: Jan. 15, 2021
Cruising from "I Do to I Still Do" A journey through marriage.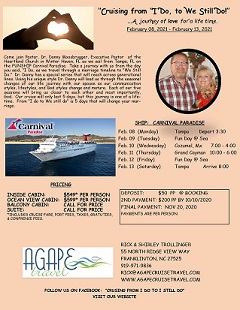 Come join Pastor, Dr. Danny Moosbrugger, Executive Pastor of the Heartland Church in Winter Haven, FL as we sail from Tampa, FL on the FUNSHIP Carnival Paradise. Take a journey with us from the day you said, "I Do, as we travel through a marriage timeline to "We Still Do." Dr. Danny has a special series that will reach across generational lines. Using his unique style Dr. Danny will lead us through the seasonal changes of our life journey with our spouse as our communication styles, lifestyles, and God styles change and mature. Each of our five sessions will bring us closer to each other and most importantly, God. Our cruise will only last 5 days, but this journey is one of a lifetime. From "I do to We still do" is 5 days that will change your marriage.
Inside Cabin: $549* Ocean View: $599* Balcony: Request Suite: Request *All prices include: Cruise, Port Fees, Taxes, Gratuities, and conference fees.
Deposit: $50 per person at booking 2nd Payment: Oct. 10, 2020 Final Payment: Nov. 20, 2020
Alaska 2021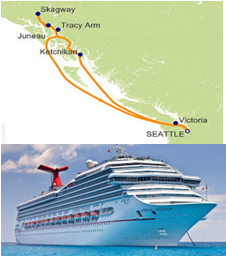 Alaska, 2021. Come join Agape Travel as we set sail for the 1st time to Alaska. We sail round trip from Seattle on this 7 day We will visit great ports that will allow us to indulge ourselves in the history and culture of America's last frontier, Alaska. We will cruise the Tracy Arm Fjord, stop in Skayway, Juneau, Ketchikan, and Victoria, BC before returning to Seattle.
Inside Cabin: $1031* Ocean View: $1266* Balcony: $1836*
*Princes include, Cruise, Port Fees, Taxes, and Gratuities. Double Occupancy, cruise only.
Deposit: $400 per person at Booking. Final Payment due May 15, 2021
Cruise from Norfolk, VA

Cruise from historic Norfolk, VA on a five day cruise to the Bahamas. Two great ports, Nassau and Freeport. We sail on Mary 22, 2021 on one of the top rated ships in Carnival's Fleet, the FUNSHIP Carnival Magic. This short 5 day get-a-way is just right to rejuvenate and relax. Get your family and friends to join you on this FUNSHIP get-a-way.
Deposit $50 per person. 2nd Payment $150 per person Jan 05, 2021 Final Payment: March 01, 2021
Inside Cabin: $740* Ocean View: $837* Balcony: $990* *Prices include; Cruise, Port Fees, Taxes, and Gratuities. Based on double occupancy